If you've ever sent a Freedom of Information request, chances are you didn't get everything you asked for. But sometimes, in a strange way, you get something else than you asked for. Pages of redacted text. The odd bizarre phrase left in. Maybe you wanted to laugh? Or to throw it at the wall? Or to make art.
Well, that's all (almost) exactly what Tarjei Leer-Salvesen did. Ten years ago Tarjei, a Norwegian investigative journalist and FOI specialist, began sharing some of his most outrageous examples of redacted documents with colleagues on Facebook for fun. He then was invited to share these examples at SKUP, the Norwegian Investigative Journalism Conference in 2013. So he compiled some examples, added some comments and colours, and put them on the wall in the hotel foyer.
"People went crazy about these and wanted to buy them! And I said, well, I'm not prepared to sell these pieces. I don't even know if I really own them. So I donated all of these motifs to the conference". And so they were all sold, and people kept asking Tarjei for more.
At Dataharvest 2023, you will have the chance to buy one of these pieces for yourself or your newsroom!
On Friday evening, 2 June, join us at the FOI Party & Art Auction, this year's big social event at Dataharvest, to have a drink, meet colleagues, listen to Tarjei in conversation with Le Monde investigative journalist Stéphane Horel, and maybe even walk away with a piece of art.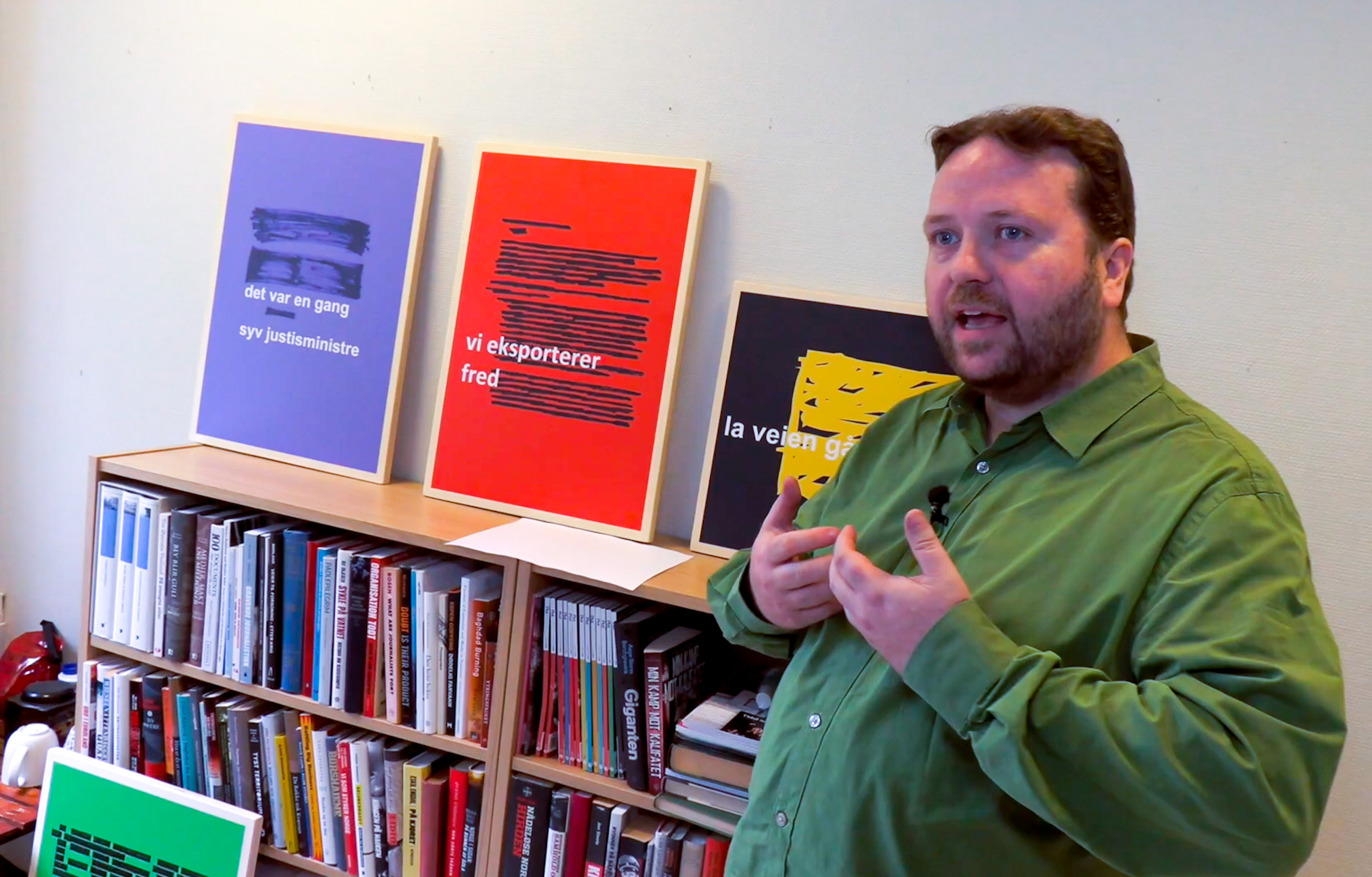 The art of the bureaucrats
For Tarjei, heavily redacted documents are uniquely human, opening tiny windows into the opaque backrooms of the bureaucrats.
"Many of the bureaucrats are actually very creative, and they like to play. Some of the people who redacted these documents, they are bored at work, and they want to be more creative. It sort of shines through the documents that they are destroying in very creative ways."
But in doing so, they are not just editing documents, says Tarjei, but creating new works of art. What they choose to edit out – sometimes including even the page numbers of documents – and what they choose to leave in – tantalising phrases such as "and the cafe car ran out of food" or "these are sobering findings", amongst otherwise relentless black blocks of redaction – are creative decisions. And these creative decisions can amount to art.
"When they take away all the characters, all letters, all numbers – all of it – to me, that raises a philosophical question: Is this still a public document? Or is it something brand new?"
So Tarjei supposes: "I'm not saying that I'm making the FOI art. I'm saying that I'm discovering it, which is a distinct difference." Tarjei prefers to describe himself as a curator, capturing and contextualising "the creativity by the bureaucrats".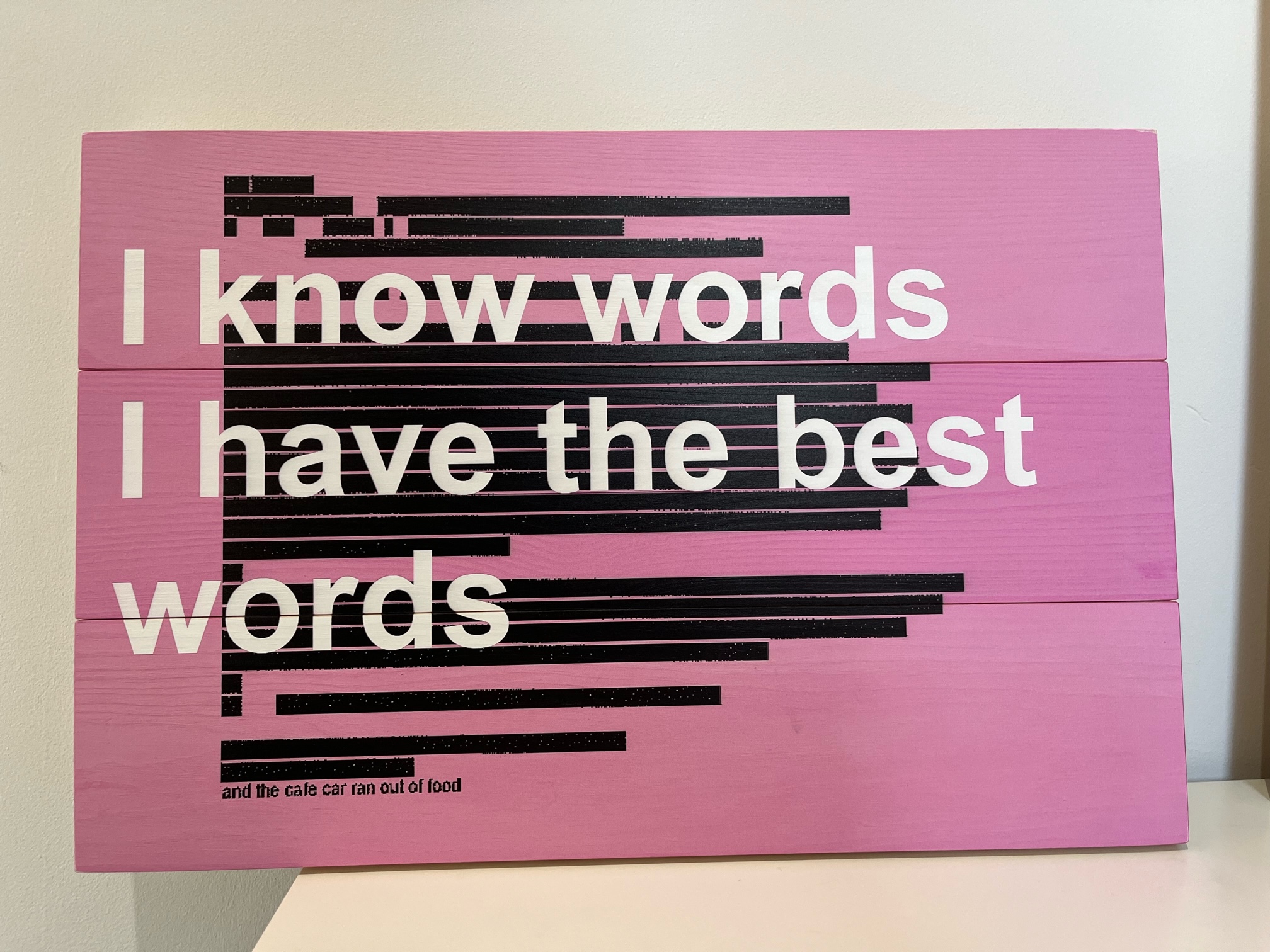 Art as dialogue
Curating these FOIs and presenting them as art is a way for Tarjei to communicate back to the archivists, who denied him the information he asked for, and instead forced him to ponder their obscure and opaque redactions.
"It adds an extra layer to the communication between the journalists and the people in the archive. I think that's really important that we bear in mind as journalists when we keep nagging the people in the archives for documents all the time. We have to sometimes communicate directly with them and show a human face."
This human aspect of FOI is something Tarjei will be talking about at Dataharvest.
"There are people working in some of the archives who got a more positive take on my journalism when I started doing this. Because they saw I was not just a grumpy guy sending angry emails, but that there was a person there that they could relate to."
And the art is just one approach in his FOI toolkit. Ultimately, it is a tool of dialogue, humanising both the archivist and the journalist, and perhaps then building empathy, trust, and good will.
"We are using the law as a tool. But if our communication is smoother, then we get to know more. And in my experience, meeting with them sometimes, drinking coffee with them, calling them and not only sending angry emails, that helps. Giving them pictures like this adds an extra level to the communication, which is humour. But humour on a relevant topic for what we are discussing."
"It has actually helped my information access."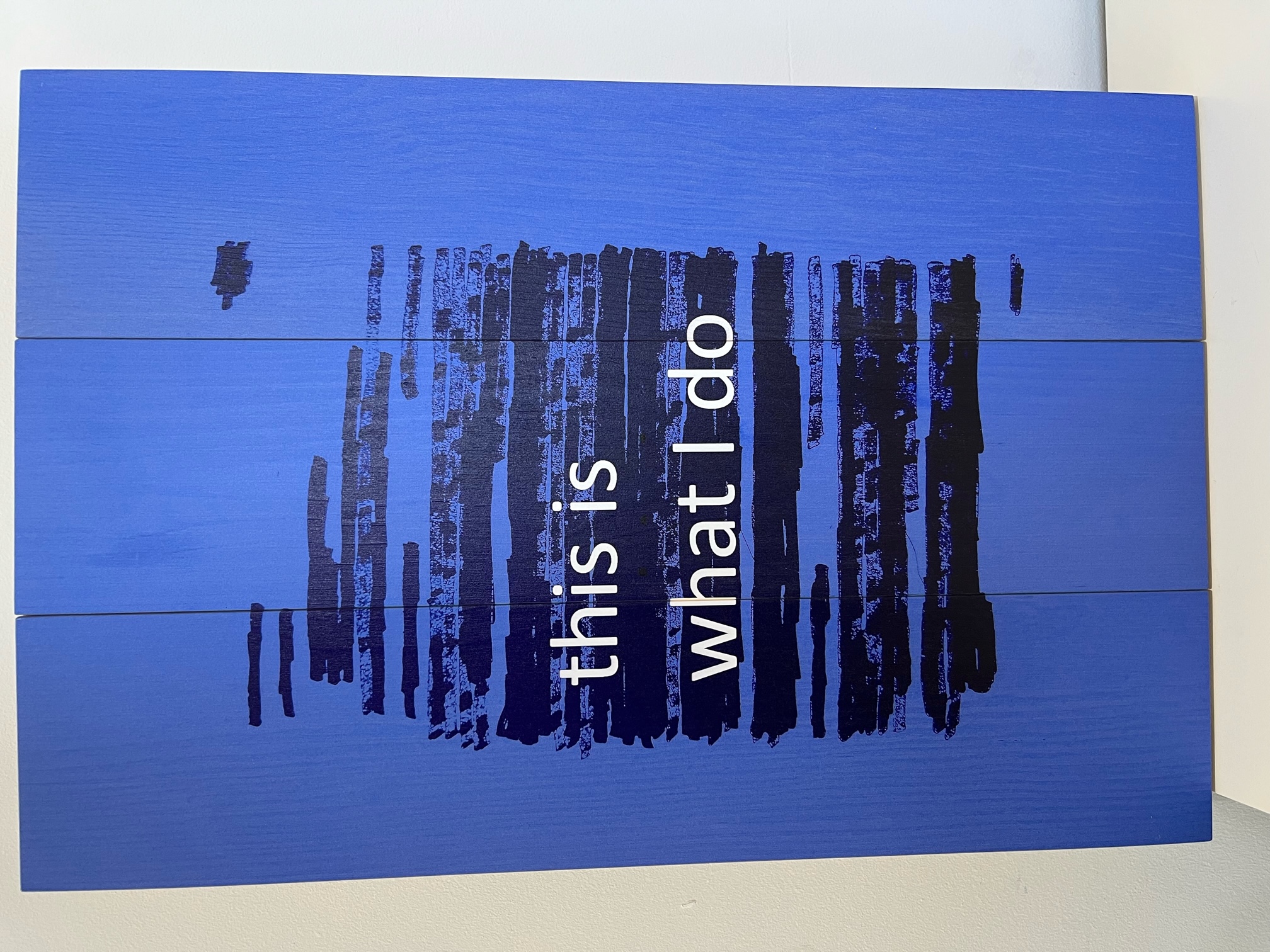 A very visual form of power abuse
Tarjei says this art doesn't just seek to communicate with the archivists, but to "document how silly some of this is" and "make people reflect and laugh a little bit about what's happening".
Ultimately, Tarjei is seeking to "capture a very visual form of power abuse". He gives the example of one piece where all the contents of a document had been removed, which is illegal under Norwegian law, Tarjei says: "if your redaction is changing too much of the content, you're supposed to say no. So this has been released in an illegal way. In this picture, I'm documenting that".
In his curation and presentation, Tarjei presents these abuses of power, concealment of information, and creativity of the bureaucrats to the world, which quickly and visually tells as a powerful story. Reflecting on the power of this format, he says: "I think journalism, and every other part of society, has a lot to learn from all forms of art. Because it speaks to other parts of us than just the logical part of our brain. It speaks to our hearts, to our creativity, to our emotions, and we can find inspiration from that."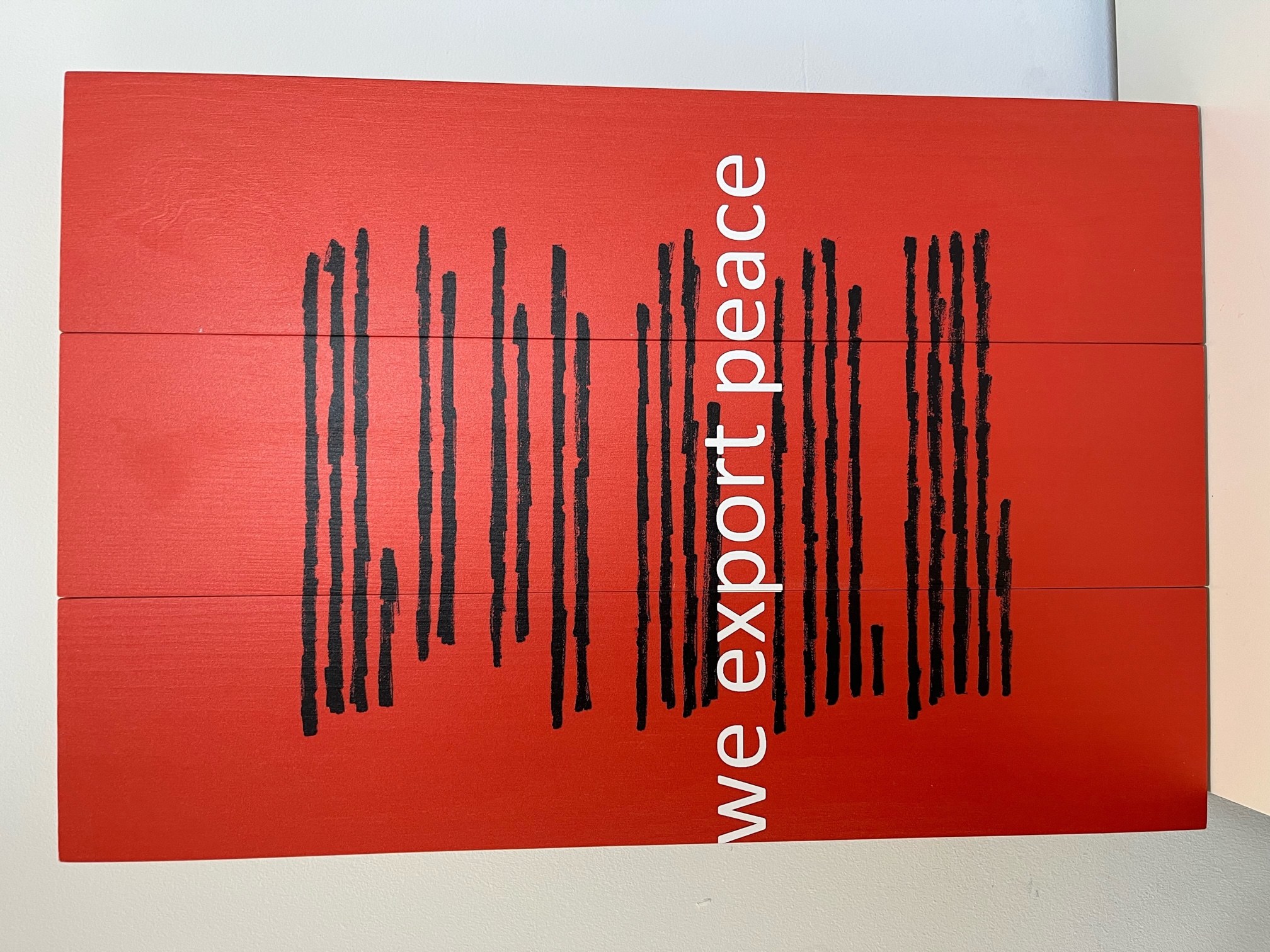 #FOIArt
Not all the motifs are redactions from his own journalism; Norwegian colleagues from Norway and the US have also shared examples with him. Tarjei is enthusiastic for others to share their "most ridiculous redactions" from their countries to compare – so please share them on social media using the hashtag #FOIArt, or print them and bring them to Dataharvest.
Tarjei will be at the FOI Party & Art Auction on Friday 2 June, where he has donated six pieces, printed onto wooden planks: "they're very solid things to put on your wall and they're meant to last". Each contains a story on the back giving context.
"I do it to support Datharvest and the wonderful community that comes together in Mechelen. It's a very inspiring and idealistic group of journalists who actually does a lot of good. I have learned a lot from attending these conferences, so I wanted to contribute. I'm hoping that Data Harvest has fun with this and that it generates a small amount of money for the conference, and that it may contribute to other journalists sharing their experiences and perhaps help people laugh and not just cry over their frustrations!"
Trine Smistrup, co-founder of Arena for Journalism in Europe, director of Dataharvest said:
"It is a wonderful idea to turn these rejections into something that is funny and sarcastic. And we are very grateful that Tarjei donates this artwork to Dataharvest to auction off."
"Tarjei has specialised in FOI requests and tactics for many years and has generously shared his knowledge both in his native Norway and by coming to Dataharvest over and over again. I was very happy to hear that he got a fellowship to specialise even further at the Reuter's Institute this year, so I am sure that he will have a lot of interesting experiences to share in the sessions he is teaching and moderating at Dataharvest."
"I hope that it is not the last time we can bring an artistic element into Dataharvest – and maybe even make some money. Any money that we make from the auction will be put into next year's conference, especially to bring in more participants from countries where journalism or journalists are under pressure."
See you at the Dataharvest FOI Party & Art Auction at 6:15pm on Friday 2 June!