For the first time in the history of Dataharvest – the European Investigative Journalism Conference – we present a brand new film straight from Austrian movie theatres.
In "The Farmer and the Hipster" the Austrian journalist and filmmaker, Kurt Langbein, follows the story of the farmer Christian Bachler who confronts the investigative journalist, Florian Klenk.
"Get off your high horse and come for a practical training," the Styrian mountain farmer challenges the eloquent Falter editor-in-chief Florian Klenk on Facebook. Klenk had praised a verdict in which a farmer was sentenced for the dangerous behaviour of his cows. Bachler states that Klenk is an "arrogant hipster-in-chief" who ignores the situation of farmers. 250,000 people watch the video. Klenk comes and gets to know Bachler's world.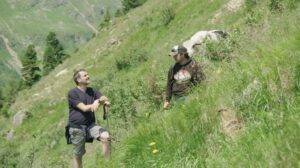 The rebel runs an alternative farm at 1,450 metres with cows, alpine pigs, yaks, geese and chickens, an alpine Bullerbü. At the age of 20, Bachler had taken over the farm and raised conventional milk production with easily granted loans. Then the subsidies changed. Eventually the milk price collapsed, but the debts remained. Klenk learns that the Raiffeisenbank wants to auction off the farm. The journalist starts crowdfunding via social media. 13,000 Facebook users donated 420,000 euros within two days. Bachler is debt-free: A modern fairy tale.
The entertaining, emotional and earnest documentary "The Farmer and the Hipster" will be screened at Dataharvest on Saturday, 21st of May as part of our Food & Water theme. The film will be followed by a Q&A session with Kurt Langbein, the director. Join us to learn more about the story behind the film and the issues addressed.