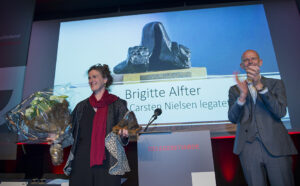 Sunday April 28 was our director Brigitte Alfter's birthday. But that was not the only reason for her being happy. She had been told to go in secret to the congress of the Danish Union of Journalists to receive the prestigious Carsten Nielsen prize.
After the congress dinner, the union chairman, Lars Werge, went on stage to announce the surprise to the 400 delegates to the assembly. They welcomed Brigitte onto the stage with the birthday song.
Here is Lars Werge's speech to Brigitte Alfter:
Dear Brigitte,
Congratulations on the award. And thank you for your contribution to the professional strengthening of Danish journalism and for your consistent work to promote journalistic cooperation.
You were nominated to receive the prize by a group of colleagues who among other things write:
"Brigitte Alfter is a freelancer, she is an award-winning cross-border and data journalist, and she is the epitome of collaboration and journalistic community.
She works in the area of European politics, which others may be reluctant to enter because it is such a complicated issue.
Brigitte has been central to many European journalists working together across borders today. For example, she has been:
Committed to SCOOP since 2005 – SCOOP supports, through the Danish Association for Investigative Journalism (FUJ), investigative journalists in Eastern Europe
co-founder of the annual European Conference on Data and Investigative Journalists – EIJC & Dataharvest. Brigitte developed it, and in eight years it has grown from 30 to 500 participants from about 50 countries
co-founder of Journalismfund.eu, which provides funding for research for groups of investigative crossborder journalists. For this, in 2013 she got the Leipzig Prize for the Freedom and the Future of the Media
co-founder of Wobbing Europe, a network of journalists working for public access to EU and national administrations
This year's Cavling prize (the annual Danish Press Prize) went to the money laundering case in Danske Bank – a work that would not be possible without collaborating across borders, the kind of collaboration that Brigitte is helping to develop.
That's why we recommend that this year's Carsten Nielsen scholarship goes to Brigitte Alfter."

The award is named after Carsten Nielsen, who was the first chairman of the Danish Union of Journalists.