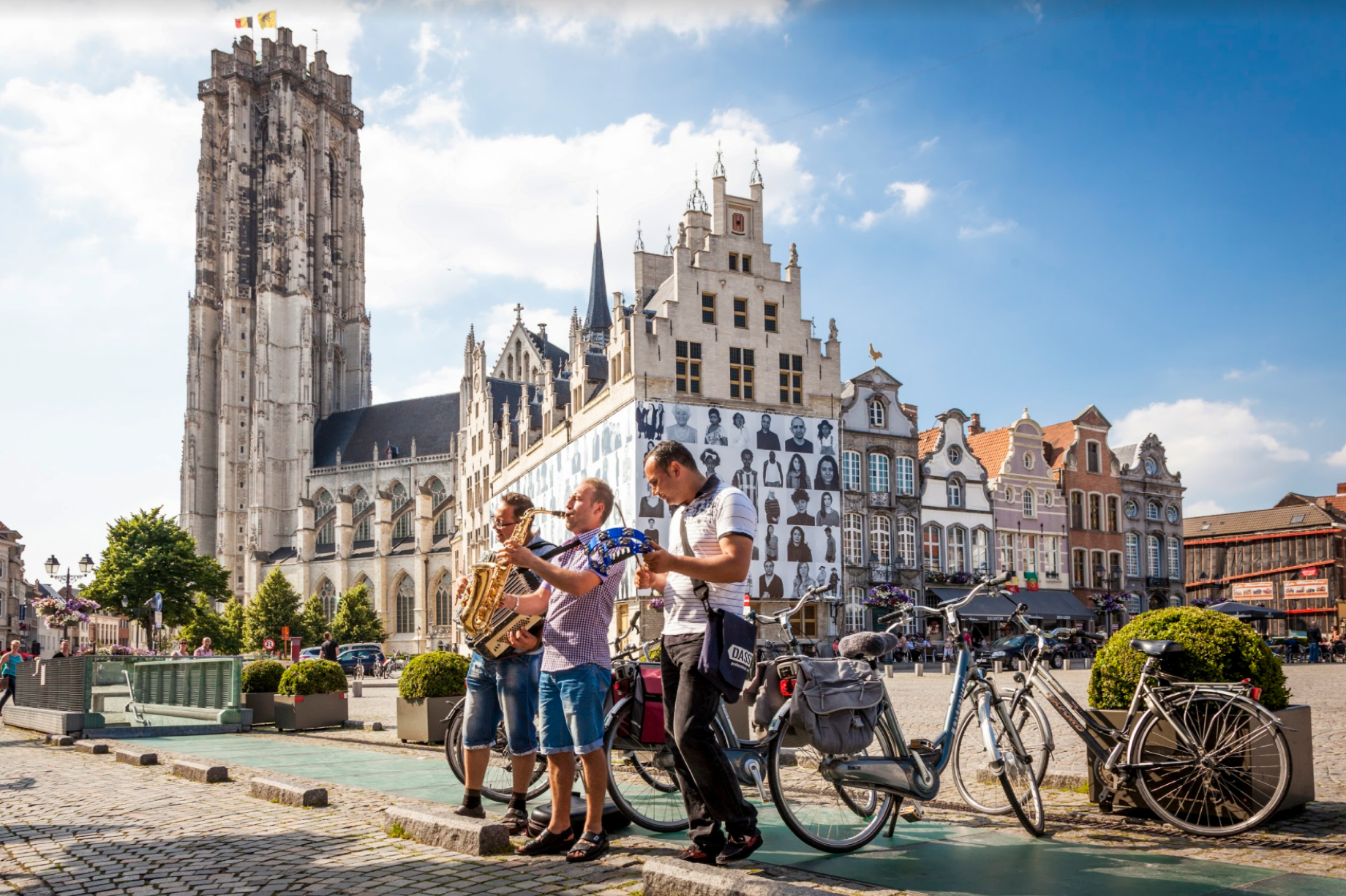 Our conference city, Mechelen, is one of Belgium's oldest cities and is located between Brussels and Antwerp, at only 20 minutes from both. Here's some information to help you get to, and get around Mechelen for Dataharvest.
The venue
The venue of the conference in 2024 is the Thomas More Journalism School at the Campus De Ham, Raghenoplein 21, 2800 Mechelen, Belgium.
It is within walking distance from the city centre along the Dyle path.
Getting to Mechelen
Mechelen is a well connected and accessible city, close to Brussels and Antwerp.
Arriving by plane
Brussels Airport (BRU) is the main nearby airport. The airport train station is directly under the Departure and Arrival Halls of the airport (level -1), from which you can take a train directly to Mechelen, taking about 11 minutes.
From Brussels South Charleroi Airport (CRL), there is a shuttle bus to the train station. Travel time from Charleroi is 1-2 hours.
Arriving by rail
Brussels Midi/Zuid/South is the main station in Brussels. Be aware of the dual name of this station – Midi (French), Zuid (Flemish). This station is used by all mainline trains including Eurostar to London, Thalys to Paris, Amsterdam & Cologne, German Railways ICEs to Cologne & Frankfurt, Intercity trains to Luxembourg and Belgian domestic trains to Bruges, Ghent, Antwerp & so on. Travel time from central Brussels to Mechelen is 20-25 minutes.
Go to Belgian Rail to plan your journey and buy your ticket.
Arriving by car
The nearest car park is 'Parking Zandpoortvest', address: Zandpoortvest 70, 2800 Mechelen.
For more information on getting to or around Mechelen, Visit Mechelen has some good advice.
Accommodation
There are several hotels and B&B's in Mechelen close to the conference venue. We do advise you to book sooner rather than later. Use your favourite hotel search site to find numerous options.
Here's a short list of hotels in Mechelen:
Going out
An easy option for food is the food court Vleeshalle with many food and drinks stalls. You will also find restaurants in all price ranges in the centre of Mechelen. Some examples are:
Lam'eau, Van Beethovenstraat 8, 2800 Mechelen
Sava, Grote Markt 13, 2800 Mechelen (Tapas)
Ronda, Vismarkt 10, 2800 Mechelen (Moroccan)
Via Via, Zandpoortvest 50, 2800 Mechelen (World)
Pintxos, Nauwstraat 10, 2800 Mechelen (Tapas)
Il Cardinale, Sint-Romboutskerkhof 1, 2800 Mechelen (Burgerbar)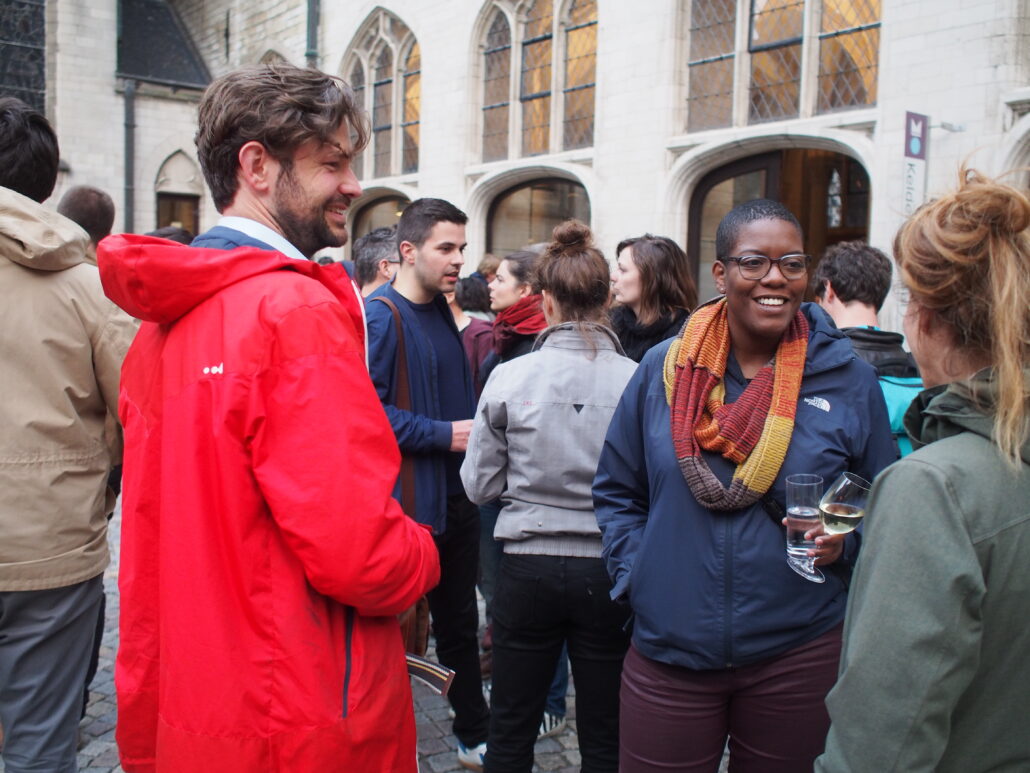 Drinks in Mechelen can also be had at dozens of different places, but most conference participants go to the Vismarkt. Located in the centre of town, next to the river Dijle, Vismarkt is a charming square lined with nothing but bars and restaurants.
Some of the most popular places at Vismarkt are:
De Gouden Vis: perfect for conversations over a good Belgian beer in an 18th century Art Nouveau-style house; also perfect for late-night dancing – Address: Nauwstraat 7, 2800 Mechelen
Bar Popular: perfect for cocktail fun and upbeat contemporary music – Address: Vismarkt 1, 2800 Mechelen
D'Hanekeef: Mechelen's oldest café and that's exactly how it feels, too – Address: Keizerstraat 8, 2800 Mechelen
Kafee Zapoi: a 'brown bar' par excellence, as the Belgians like to call them; cosy, democratic and with a lot of character – Address: Onze-Lieve-Vrouwestraat 115, 2800 Mechelen
Good bars off Veemarkt are for example:
Barramundo Lounge: a cosy lounge bar with trendy music and chill-out sofas right under the St. Rumbold's Cathedral – Address: Steenweg 2, 2800 Mechelen
Honoloeloe: right at the center of Mechelen, drinks and food in an adventurous atmosphere – Address: Grote Markt 11, 2800 Mechelen
O'Flach's: the most popular Irish bar in town – Address: Grote Markt 24, 2800 Mechelen
About Mechelen
Mechelen is both cosy and picturesque. In after-conference hours you will easily find other conference participants along the pedestrians streets and city squares, plotting their next investigations. Eyecatcher of the city center is Saint-Rumbold's Cathedral towering over the city with its unique silhouette. Adjacent to it is the main square, Grote Markt, surrounded by the town hall and other 16th and 17th century buildings.
Mechelen has played an important role in the history of Belgium. The city lived its heyday in the 15th and 16th century. In 1507, Margaret of Austria had a palace built in Mechelen (Hof van Savoye) from where she ruled over the Netherlands until her death in 1530. During that time, the city was renowned for its broadcloth production. Today, Mechelen counts four UNESCO World Heritage listings and over 370 heritage buildings.