It's over! Next week there is no Dataharvest Digital. Last night the final session said goodbye and see you – somewhere, somehow – in 2021! It is almost sad for us at Arena – but at the same time we are happy and proud. We have had what Arena chairman Nils Hanson called "probably the […]
/
by Trine Smistrup
https://dataharvest.eu/wp-content/uploads/2020/11/DH-Europe.png
822
1206
Trine Smistrup
/wp-content/uploads/2020/06/logos.png
Trine Smistrup
2020-11-27 10:54:54
2020-11-27 11:22:59
"The longest investigative journalism conference ever" has ended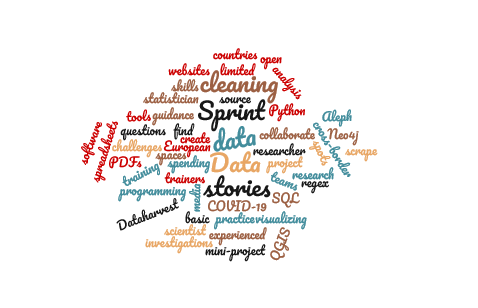 This year's Dataharvest included a lot of data skills training. Our fantastic trainers have lifted the veil on spreadsheets analysis, cleaning data, explored caveats in visualizing data. We have asked basic questions – what is data, what does it look like and how to even start a data research? However, we have also challenged our […]
/
by Trine Smistrup
https://dataharvest.eu/wp-content/uploads/2020/11/data-sprint2.png
308
478
Trine Smistrup
/wp-content/uploads/2020/06/logos.png
Trine Smistrup
2020-11-17 07:20:47
2020-11-17 07:20:47
12 seats for a data sprint – are you in?
Dataharvest 2020's focus has been climate and energy. In early September, we zoomed in onto the networks of climate deniers, looked in fossil fuel subsidies across the EU and discussed the future of climate journalism. This upcoming week, we'll learn more about how carbon credit frauds work, who the big energy lobbyists in Brussels and […]
/
by Trine Smistrup
https://dataharvest.eu/wp-content/uploads/2020/08/alaskan-pipeline-4-1357691-1279x850-1-e1596700085713.jpg
399
600
Trine Smistrup
/wp-content/uploads/2020/06/logos.png
Trine Smistrup
2020-11-02 13:49:52
2020-11-02 13:49:52
We are launching the Arena Climate Network!